PLEASE NOTE: Due to Covid-19 some of the information below is not accurate. Hours for our shower program are now limited to 9am-1pm, Monday-Thursday and Saturdays. The church building is currently open only for showers and very few other essential services. If you have questions about Safe Parking, our shower program, or other resources we are providing during this season, please email , call 425-895-5904 or stop by when the building is open for showers. (Showers are accessible through the back entrance of the church only.)
Safe Parking Food Drive
We're doing a food drive this Sunday to support our friends in our Safe Parking Ministry! Please check out the list below and bring your donated food items with you to the Overlake building for our Sunday worship experience at 10am.
If you're not able to come in-person on Sunday, you can drop your donated items at the back entrance of the Overlake building Monday -Thursday of the following week from 9am-1pm.
What to bring:
Protein Drinks
Protein Bars
Beef Jerky
Tuna or Chicken Kits
Microwaveable Soups
Ritz Crackers
Peanut Butter to-go Cups
Thank you for your generosity!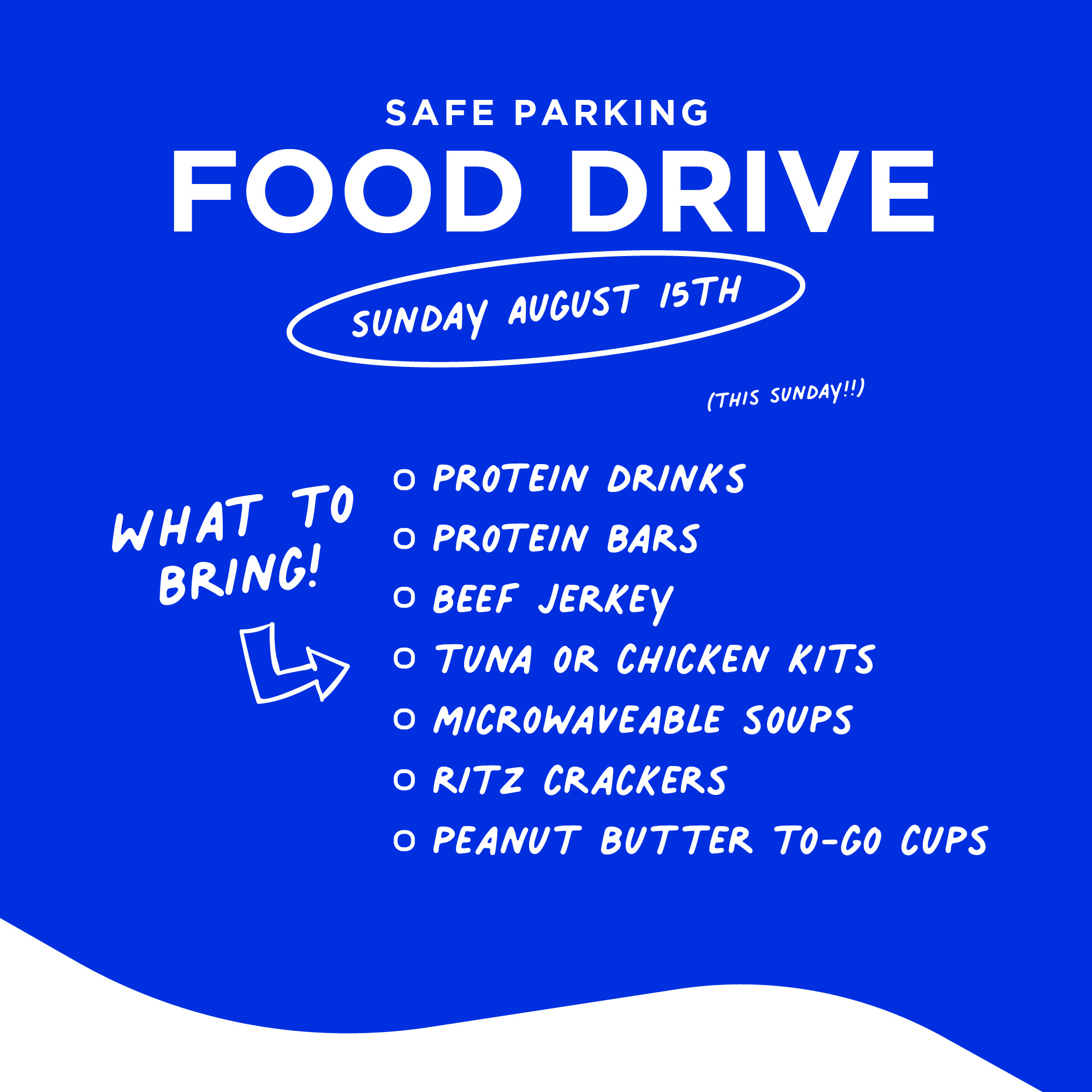 Safe Parking Ministry Overview
With the number of unhoused people on the rise in King County and many depending on their vehicle as shelter, OCC has established a Safe Parking ministry to provide a temporary and safe place for up to 15 single men and couples with no place to stay except in their vehicles*.
In addition to a place to park, relax and sleep overnight without fear of harassment or arrest for trespassing, we offer:
Dignity, respect and accountability
Access to part of the building when it is staffed for showers and meals
Connections to qualified outreach case managers
Regular invitations to participate in church programs, ministries and worship services.
*Only passenger vehicles are allowed in our Safe Parking program. We cannot accept RV's, trailers or campers of any kind.
NEED SAFE PARKING?
Email our Safe Parking Team at , call (425) 895-5904 or stop by the church office when we're open.
Showers are also available to anyone in need during the week, Monday-Thursday, 9am-3:30pm as well as on Saturday from 11am-1pm. Locker rooms are located in the back of the church building on the 2nd floor. Towels and soap are provided. (Occasionally the church is closed and showers aren't available due to holidays or special events. Feel free to call our main office line at 425-702-0303 ahead of time if you'd like to confirm that we're open.)
WAYS TO GET INVOLVED
MONDAY NIGHT DINNERS: If you'd like to provide a meal for the Monday Night Community Dinner, click HERE and add your name to the list.
SATURDAY AFTERNOON LUNCHES: If you'd like to provide a meal for the weekly Saturday Lunches, click HERE and add your name to the list.
VOLUNTEER: Interested in becoming a Companion to a Safe Parking resident? Click HERE and select 'Safe Parking' from the dropdown list.
DONATE: To donate to the Safe Parking ministry, click HERE and direct your donation to SAFE PARKING
QUESTIONS: If you have questions about the Safe Parking ministry or just want more information, email Josh at .


If you have items not on this list that you would like to donate, please call 425.895.5923 to check before dropping them off.
---
WORDS OF APPRECIATION
"People at OCC have listened and taken into consideration what we've gone through and not judged us just on the fact that we are homeless."
"Since we've been at OCC there have been nothing but blessings and things to help us get in the direction we need to go as a couple."
"I'm so touched that you offer this truly Christ-like program to the homeless community. Thank you from the bottom of my heart."