OCC's Response to the Syrian Crisis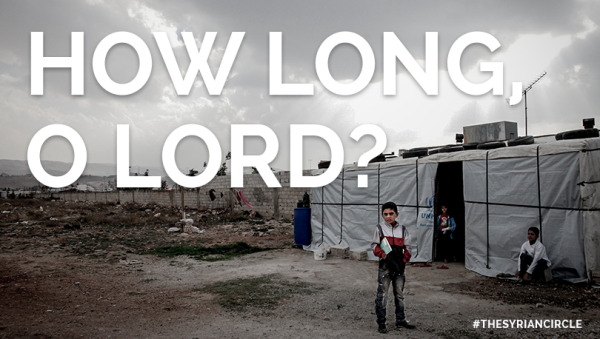 "The conflict has left at least 250,000 people dead n the strategic heart of the Middle East and displace more than 11 million overall, yet there is still no peace process, no discernible solution and no end in sight. Now, the humanitarian effort is failing, too, ground down by dwindling interest, failing donations and spiraling needs."
~ Antonio Guterres, the U.N. High commissioner for Refugees
This crisis is of such a large scale that governments, unilateral organizations, and communities are overwhelmed. But God is not. In our human nature, we can turn away in despair. With God's help, we can all step into some place of faith to see Him do miraculous things.
Background
The Syrian conflict began as part of the Arab Spring in March 2011.
Protests were met with brutal force by the Syrian government and began to escalate and spread across the country.
In 2013, with ongoing conflict between the Syrian government and opposition forces, the Islamic State began to move in from Iraq and take a foothold in Syria, recruiting from among those who were disenchanted with President Assad's regime.
In June, 2014 the Islamic State declared itself to be a worldwide caliphate (a single theocratic one-world government).
Kurdish forces primarily in the North of both Syria and Iraq are also in this conflict, primarily fighting against the encroaching Islamic State.
Although this conflict is complex, there are four primary forces: Syrian Government, Free Syrian Army (government opposition), Islamic State, and Kurdish forces.
There are over 4 million registered Syrian refugees, more than 7 million internally displaced within Syria, and over 3 million internally displaced Iraqis.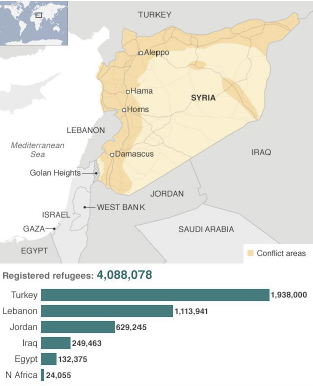 Background information and graph courtesy of World Relief
How Overlake is Responding
1. Urgent Needs - Through some ongoing partners in Iraq, Greece, and Jordan, Overlake has helped fund some immediate relief for shelter, food, and clothing.
2. Strategy Development - Several of our staff have been working with organizational leaders, prayer groups, and others on the ground in various countries for a greater coordinated response. We also sent a survey team to assess the needs along the Syrian border with Turkey.
3. New Project Start in Turkey - We have been building a formal partnership between some OCC sent workers and World Relief to start up the Refugee Family Center. There is very little Christian presence in these locations. The center will provide:
Trauma therapy for women who have experienced unspeakable atrocities at the hands of Islamic State fighters.
Child-friendly spaces for children to have a safe place to play, get basic educations, process the trauma they have experienced, and be ministered to by loving Christians.
Social services for sustainable living.
What You Can Do
1. Pray. It's not futile, it is strategic. Sign up for www.thesyriancircle.com for weekly updates and prayer points. Make a commitment to pray for Syria for the rest of the year.
2. Give. Consider contributing toward the Refugee Crisis Project by clicking here. Your gifts will fund the work of the center in Turkey, or be used to provide relief through our other partners.
3. Go on a team. You can show up and care for people, listen to stories, show love, pray, and provide a moment of relief. Check out teams which are responding to the crisis or email